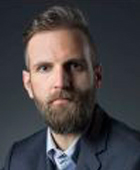 Associate Professor, Cognitive Science
Email:
christian.luhmann

[at]

stonybrook.edu
Interests
Decision making, learning, and computational modeling
Research
My lab focuses on complex behavior with a particular focus on decision making and learning and the interplay between these behaviors. We explore these interests in a variety of domains. We also use a variety of methodological tools, including behavior and computational modeling as well as neuroscientific methods such as EEG and fMRI. I am interested in how people make decisions in the face of incomplete, inconsistent, ambiguous, or uncertain information. I am exploring this interest in a variety of domains. Utilizing behavioral and computational methods, my work in the area of learning suggests that learners are adept at dealing with incomplete data, a situation ignored by current learning theories. Utilizing functional magnetic resonance imaging, my work in economic decision-making explores the neural bases of decision-makers' ability to foresee, evaluate, and react to the presence of uncertainty. My behavioral work on perceptual decision-making explores both how even relatively simple decisions involve integrating noisy information over time and how decision-makers evaluate quantities such as confidence.